From our humble beginnings as a used car trader in the 1970s, Prime has evolved to become a multi-award-winning diversified Group that has continuously reinvented itself over the past 40 years.
Peace of Mind
Never worry about your rented ride with our transparent accidental excess.
Workshop Support
200,000 square ft in-house workshop to provide you with the shortest turnaround time.
Flexible Packages
Customizable short & long-term packages, tailored just for you.
Administrative Support
All-encompassing adminstrative support including proper registration and vehicle insurance.
Preventive Maintenance
Breakdowns are kept to the absolute minimum to avoid disruptions.
Malaysia-Use
Driving to M'sia is allowed when you choose Prime as your driving partner.
No Mileage Cap
There is no mileage cap for vehicles rented with Prime.
Petrol Discounts
Enjoy discounts when refuelling with Shell Premium Fuels.
Recommended by Grab
For everything private-hire-related, Prime is your go-to as recommended by Grab for the past five years.
Wide Range & Variety
Be spoilt for choices when you choose Prime as your rental partner – our wide fleet variety is available for you to choose from.
Start driving with Prime in 3 quick and easy steps!
Minimum Requirements:
At least 25 years of age
Singaporean / PR
Min. 3 years driving experience
Possess a valid PDVL / TDVL
Step 1
Select your preferred vehicle model from our wide variety of cars at our showroom, and place your deposit.
Step 2
Set up an account with a ride-sharing platform.
For new drivers, don't fret! Prime will guide you on every step of the way to ensure that the process is easy and hassle-free for you.
Step 3
Start driving and earning right away!
Enter your details below to get started, or refer a friend today!
* Marked fields are mandatory. By proceeding, you are authorizing and allowing Prime to collect, use, and disclose information provided by yourself in accordance with our Privacy Policy which you have read and understood.
Find out which plan that we carry fits your lifestyle for personal renting or lease – be it for short or long term usage.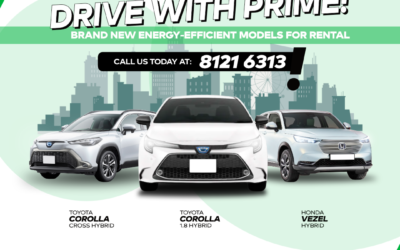 Calling all PHV drivers – get more when you drive with Prime! Choose from our line of brand-new...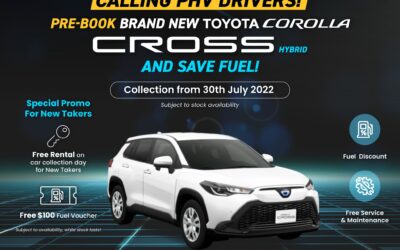 Get a brand-new Toyota Corolla 1.8 Hybrid or Corolla Cross Hybrid as your private-hire vehicle!...
Make Your Drive Count
Enjoy 29% Caltex fuel discounts* and exclusive Grab Driver points* when you drive with Prime!
* T&Cs apply.
Go Green with Prime
Choose a hybrid vehicle when you drive with us for better fuel efficiency, and an even better tomorrow!
Head Office (West) / Showroom
6 Benoi Place, Singapore 629926
Tel: (65) 6862 8878 | Fax: (65) 6863 6566
Sales Hotlines:
(65) 8121 9113 | (65) 8121 3898 | (65) 8112 0603
24/7 Emergency Service Assistance:
(65) 9236 4499
Email:
enquiry@primelimo.com.sg
Operating Hours:
Mon – Fri, 9am to 6pm | Sat, 9am to 1pm
Copyright © 2022 Prime PHV. All Rights Reserved.
Privacy Policy
Prime Transport & Limousine Services Pte Ltd ("Prime PHV") respects the privacy of your Personal Information and do not collect information about you without your prior knowledge. Prime PHV collects, uses, and discloses personal data for purposes as notified to you or as permitted by the Personal Data Protection Act 2021 ("the PDPA") or any other law.
By submitting your Personal Information to Prime PHV , you hereby consent to Prime PHV sharing this information to other affiliates of Prime PHV for purposes of updating and enhancing their respective records and for Prime PHV and its affiliates to collect, retain, use, process, and disclose your personal information. You may be contacted by telephone, facsimile, and/or email regarding products, services, and information regarding our company, such as promotions and events. Prime PHV may also monitor your access to and use of this website and its various services.
Information you have submitted will be use and disclosed by Prime PHV to better the services of Prime PHV and its affiliates. Prime PHV may also share aggregate information about you with advertisers, business partners, sponsors, and other third parties. This Personal Information is used to customize Prime PHV's content and advertising to deliver a better experience to you. The use of this Personal Information for these purposes will be kept to the minimum required.
Other than those individuals and entities listed below, Prime PHV will not disclose your Personal Information to any external organizations unless Prime PHV has your permission or is under either a legal obligation or any other duty to do so. The information provided to you at this website may be disclosed by Prime PHV to:
(a) Regulators;
(b) Lawyers, accountants, auditors;
(c) Third party service providers; and
(d) Any agents acting on our behalf
Please be aware that this Website uses cookies to monitor browsing preferences and help analyze data about webpage traffic in order to make website improvements based on customer needs. A cookie does not give Prime PHV access to your computer or any information about you, other than the data you choose to share. Most internet browsers automatically accept cookies, but you can usually modify your browser settings according to your preference. If you choose not to accept cookies, you may not be able to experience all of the features of this website.
This website may contain links to third-party websites whose data protection and privacy policies and practices may differ from Prime PHV. Prime PHV is not responsible for the content and privacy policies of these other websites.
For more information on Prime PHV's personal data protection policy, please contact:
Data Protection Officer
Prime Transport & Limousine Services Pte Ltd
6 Benoi Place
Singapore 629926
Prime PHV may amend this personal data protection policy from time to time and will place the updated policy in the website. Please check this policy before accessing or using the website.
Terms of Use
Please read these terms and conditions carefully. By accessing this website, you agree to be bound by the terms and conditions below. If you do not agree to these terms and conditions, you must immediately discontinue your access to this website.
Disclaimer
All information and materials contained in or accessed through this website are provided on an "as is" and "as available" basis. No warranty of any kind, implied, expressed or statutory, including but not limited to, the warranties of non-infringement of third party intellectual property rights, satisfactory quality, title, merchantability, fitness for a particular purpose and freedom from computer virus and other malicious code, is given in conjunction with this website, or any information and materials herein. The information and materials are subject to change at any time without notice.
Exclusion of Liability
In no event shall Prime Transport & Limousine Services Pte Ltd ("Prime PHV") be liable for any damages, losses, expenses or costs without limitation, any direct, indirect, special, incidental or consequential damages, or economic loss arising from or in connection with any access, use or the inability to access or use this website, or any failure of performance, system, error, omission, interruption, computer virus, malicious code, corruption, breach of security, or unavailability of access even if Prime PHV has been advised of the possibility of such damages, losses, or expenses.
Any hyperlinks to any other websites are not an endorsement or verification of such websites and such websites should only be accessed at the user's own risks. This exclusion clause shall take effect to the fullest extent permitted by law.
Governing Law and Jurisdiction
Nothing herein shall be construed as a representation by Prime PHV and/or its affiliates that the information and materials contained in or accessed through this website is appropriate or available for use in geographic areas or jurisdictions other than Singapore. By accessing this website and/or using the online services, you agree that such access/or use, as well as these Terms and Conditions and the rights and obligations contained hereunder shall be governed by, and construed in accordance with, the laws of Singapore and you agree to submit to the exclusive jurisdiction of the Singapore courts.
Copyrights & Trademarks Notice
The copyrights, trademarks and other intellectual property rights used in the content of this website is owned by Prime PHV or/and licensors. No part hereof may be reproduced, distributed, publised, uploaded, posted, transmitted, or hyperlinked of any materials provided through this website without the prior written permission of Prime PHV.